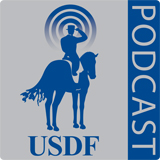 Chair of the USEF Dressage Sport Committee Rules Working Group, Janine Malone joins us to discuss the proposed rule changes that could affect dressage riders and judges and 2018 Adequan®/USDF FEI-Level Trainers Conference presenter Johann Hinnemann  shares his theory on training.
Johann Hinnemann is recognized worldwide as a trainer and coach, having served as Canada's team trainer and German National Coach, alongside Klaus Balkenhol. His student roster reads like a "Who's Who" of Olympic medalists and various national champions, including Steffen Peters, Coby van Baalen, Marlies van Baalen, Ulla Salzgeber, and Heiki Kemmer.
Janine Malone, Zebulon, NC, is a USEF Registered Dressage Judge and Technical Delegate, FEI Level 3 Steward, and member of multiple committees, including the USDF Sport Horse Committee, the USEF  Licensed Officials Task Force and Competition Management Committees.
Quick Links