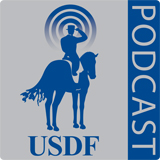 USEF Senior dressage judge and L Education Program Faculty member Debbie Reihl -Rodriguez joins us to talk about flying lead changes and we have visualization exercises from part four of our series on the mind/body connection with Sandy Venneman.
Debbie Riehl-Rodriguez, Arvada, CO, is a USEF Senior ('S') Dressage Judge, Registered ('R') Dressage Sport Horse Breeding Judge, and USEF L Education Program Faculty member. Debbie has also earned her USDF Bronze, Silver, and Gold Medals.
Sandy Venneman PhD, Sealy, TX, is an experimental psychologist, with a lifetime teaching certificate in secondary education, Sandy combines psychology with 40 years experience riding to help equestrians reach their potential. Coaching riders in the use of psychology to improve their riding, she instructs and gives mounted and un-mounted clinics nationwide.
Quick Links