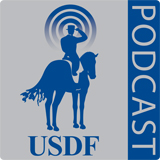 This week we start our new series "Meet the Authors." FEI 4* Dressage Judge Christoph Hess joins us to talk about his new book Ride Better and the accompanying DVD Fine Riding. In our education series, we have part 2 of Prohibited Substances in Feed and Supplements.
Christoph Hess, Germany, is an FEI 4* Judge in both Dressage and Eventing. The German National Federation (GNF) awarded him the title of Professional Riding Instructor, a title that labels him as an international expert and educator of professionals. Hess is actively involved in the education of judges and instructors both within Germany and around the world.
Eileen Phethean is Kentucky Equine Research's Chief Operating Officer. Eileen received her B.S. in Animal Science and her MBA from the University of Kentucky. Eileen has also enjoyed a lifelong association with horses.
Quick Links: