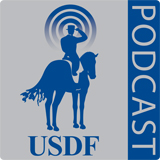 In this week's episode Dave Thind introduces listeners to the Feldenkrais Method and, Laura King talks about self hypnosis and neuro-linguistic programming.
Dave Thind, Walpole, MA, was born in Canada and trained in Germany, Dave Thind is co-owner of Aspire Farm and is a certified German Trainer A, and rider biomechanics expert.
Laura King, Palm Beach Garden, FL, is an experienced Hypnotist, Neuro-Linguistic Programming Practitioner, Sport Performance Coach and Life Coach. She is a published author, and has written extensively on the subject of self-development and athletic performance enhancement.
Quick Links: